SHARKBANZ FISHING - ZEPPELIN RIGGING BEST PRACTICES
Our most up-to-date instructions, tips from the pros, and strategies to maximize the effectiveness and versatility of your Zeppelin. We encourage all buyers/users of the product to review this information, share with others, and reach out to our team with any suggestions/feedback of their own.

INSTRUCTIONS NOTICE: Retail (cardboard) and Online (hard case) Zeppelin Packaging Instructions have Updated Rigging Information Found Here Below.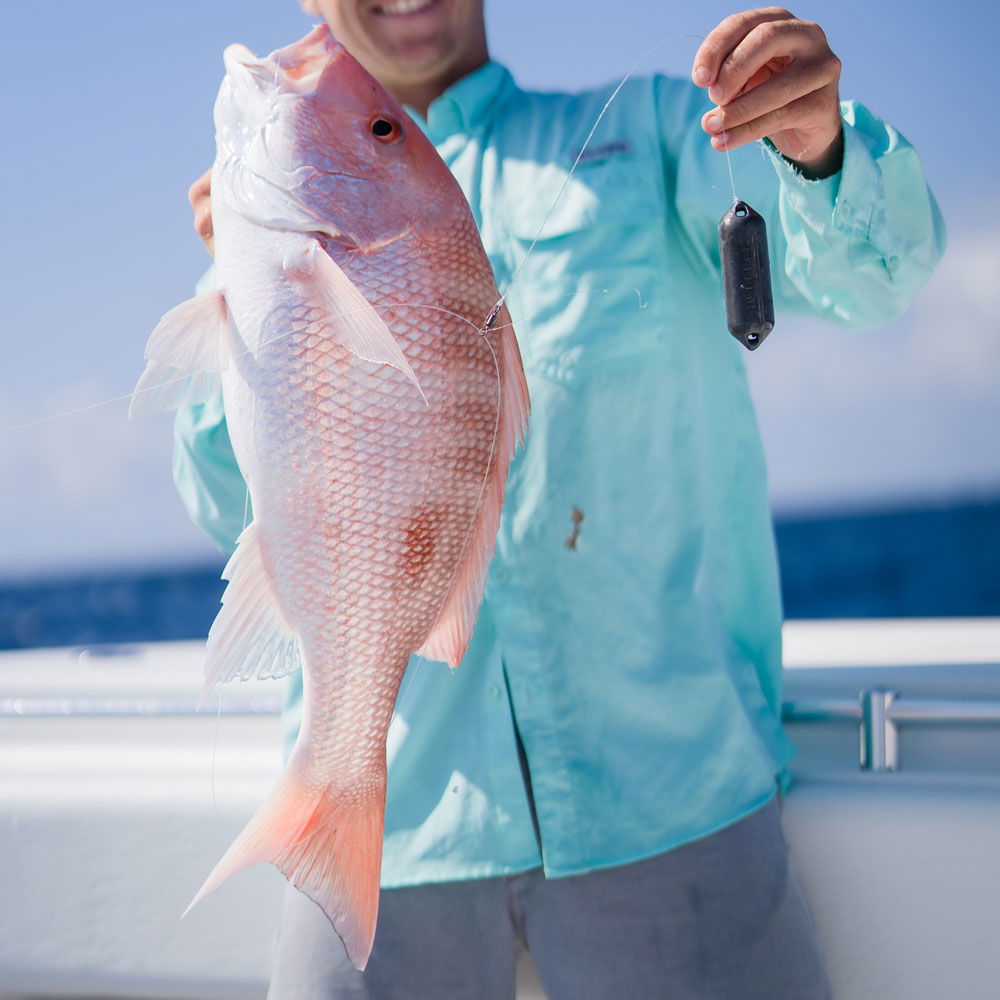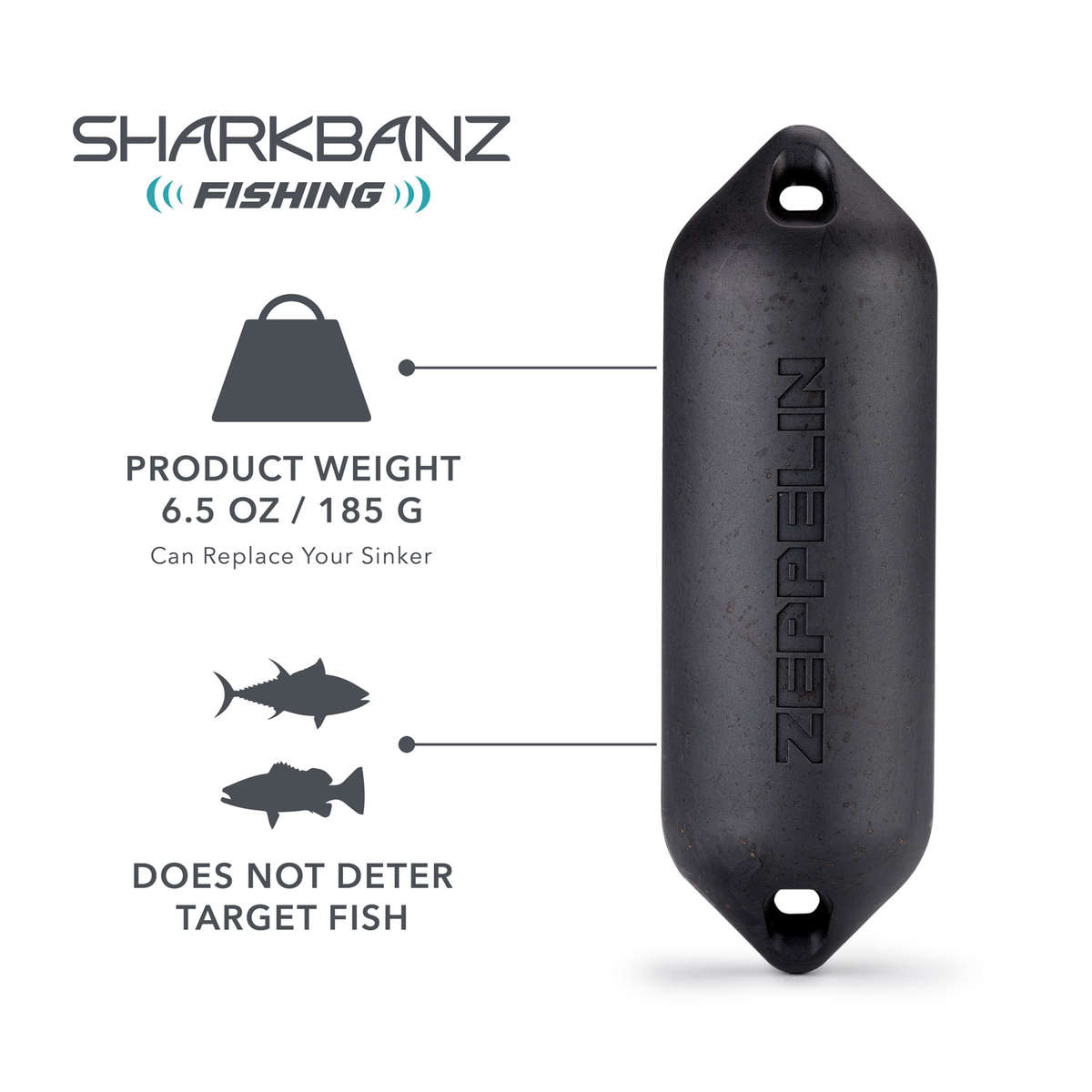 IMPORTANT: Your natural inclination may be to place the Zeppelin directly next to your catch. In most cases, particularly when bottom fishing, placing the Zeppelin directly next to your catch will NOT yield the best results.
Follow these instructions with focus on the distance of the device to your catch.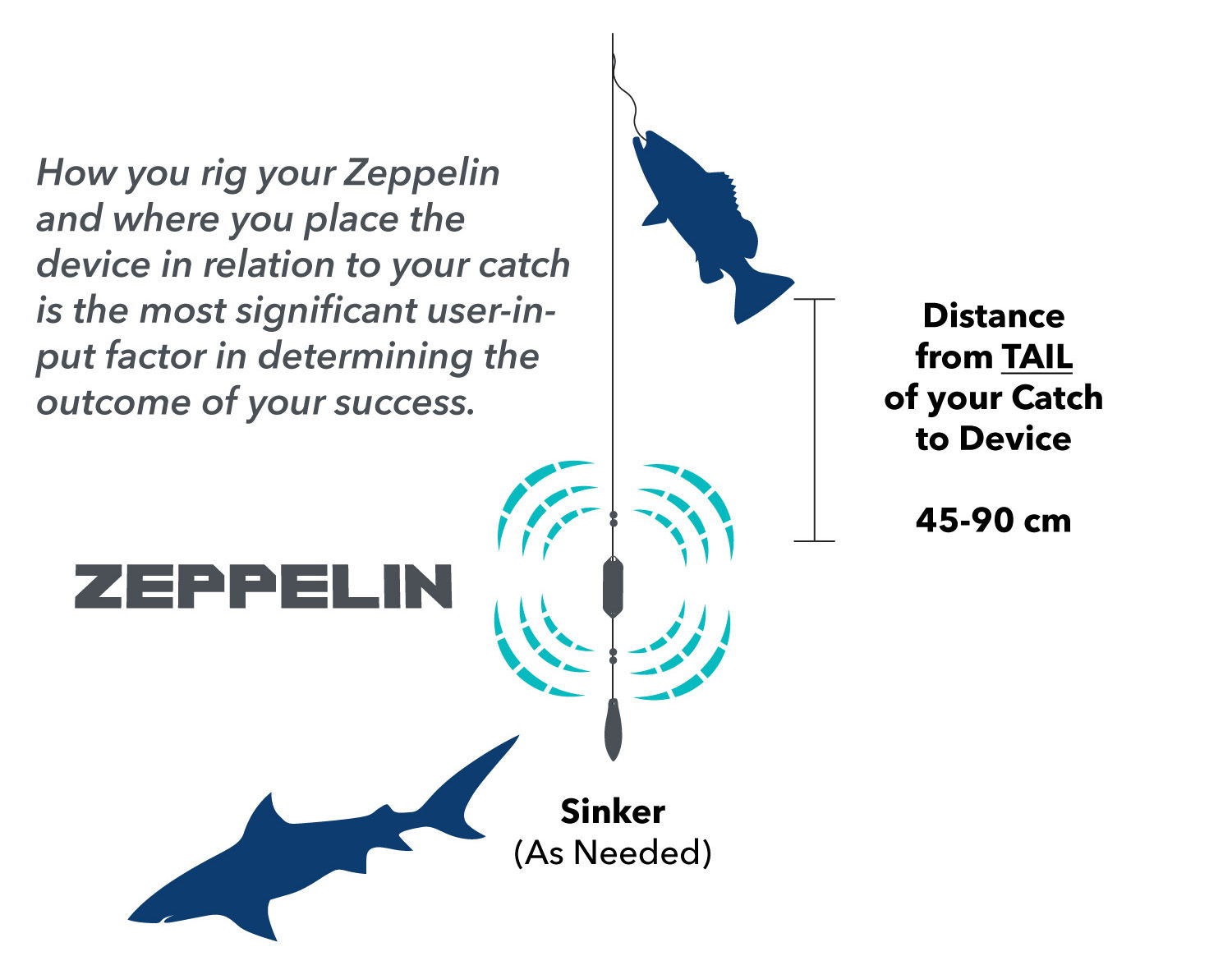 Attach the Zeppelin so the device will sit 45-90 cm from the tail of your target fish species. NOTE: Do not place the Zeppelin simply 45-90 cm below your bait/hook. You need to visualize more space between your catch and the device.
We recommend using a 3-way swivel so the Zeppelin can easily swing below your catch after hookup.
The Zeppelin's compact design minimizes drag and can be used to replace your sinker, especially in a classic paternoster rig setup.

Watch record-holder Capt. Patrick Price (Stuart, FL) easily outline our recommended Zeppelin rigging setup for bottom fishing.

*Lengths shown are not to scale for easier explain/demo purposes.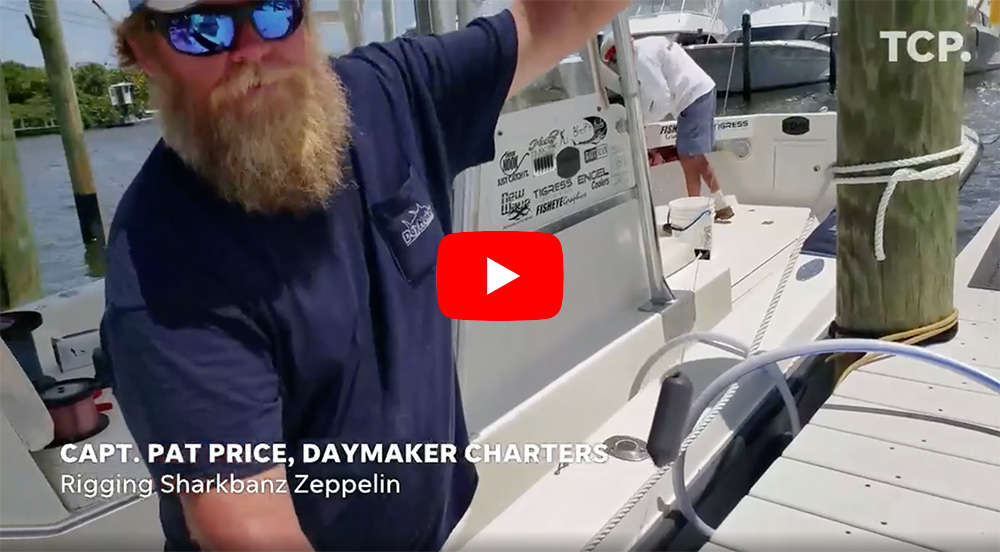 Q: How do I prevent break offs?
Easy! To prevent losing the Zeppelin to a snag, rig a lead below the device on lighter test. That way, the lead will break off on the bottom structure and you won't lose the Zeppelin. If you are using sinkers in conjunction with your Zeppelin, do not use steel sinkers. Use only lead or zinc sinkers when using the Zeppelin due to its magnetic properties.
Q: Are there other ways to rig the Zeppelin for Bottom Fishing?
Yes. For example, various Florida fishermen are now using a "
deployment
" method where the Zeppelin is secured to a carabiner that's then sent down the line after hookup in order to minimize device loss while maintaining maximum effectiveness. More on this setup to come with filmed demonstrations posting here soon.If you've come up with an effective way to rig the Zeppelin that's different from what you see here, and it's producing good results, then please let us know and film it! We'd love to hear from you at: connect@sharkbanz.com or via our @Sharkbanz_Fishing instagram messages.
Q: Can I use my Zeppelin for Pelagics and topwater fishing?
The Zeppelin is specifically designed for Bottom Fishing methods, which is where your best results will be for its use. We encourage fishermen to experiment with rigging based on the weight, deterrent field range, and design of the Zeppelin, but please be aware that trialing/rigging the Zeppelin in any way outside of the methods described here for Bottom Fishing, may not produce desired results.
Q: I have additional Zeppelin questions. Where are more answers?